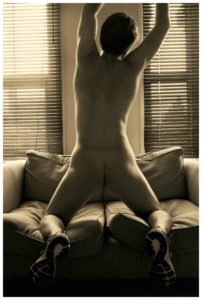 On any other Sunday, I'd have written something incredibly filthy about the photo above.
Maybe I'd have pointed out the way my legs are spread wide on the sofa; my body ready to be pushed gently forward till my arse is in the air, exposed and free for someone to play with.
Or perhaps I'd have focused on the epic impact of marathon training on sexual stamina; how we went at it hammer and tongs for over an hour the other night, our bodies still hungry and eager at the end of it.
Those stories will have to wait for another time though, because this Sinful Sunday I'm going to do something a little different…
Four weeks from tonight, I will go to bed early and pray that sleep comes quickly. When I wake up on that Sunday morning, I will eat a light breakfast, apply BodyGlide to my nipples and groin, strap on my knee support, and get dressed. I'll wear a black vest and shorts, a green cap, and red-flecked running shoes. On the front of the vest, I'll pin a race number; tied to my shoelaces will be a timing chip. I'll be ready to go.
Over the last 11 weeks, I've run approximately 285 miles. I'll add 13 to that total tomorrow evening, and maybe another 90 or so before race day. Chuck in the marathon itself, and I'll have covered a little bit more than the driving distance between London and Glasgow; around double the journey from Boston to New York.
It sounds like a lot, but for the most part I've enjoyed it. I'm lucky enough to have started from a position of reasonable physical fitness; my feet don't blister, my joints and muscles are in decent shape, and I am, according to any standard definition, able-bodied. I also get to run around a great city on most of my training runs, seeing lots of interesting things as I go; when I'm done I can come back to my nice, comfortable flat, have a hot shower, and settle down on the sofa with a decent meal and a glass of wine.
That's a luxury a lot of people don't have, which is why my other main aim in Berlin – alongside running a sub-4 hour marathon – is to raise as much money as I can for Shelter, the homelessness charity.
Shelter campaign on a range of issues related to housing and homelessness, including public investment in affordable homes, control on private rent rises, and welfare provisions that increase the risk of people losing their homes. They do really great work across the UK, and I'm proud to be running as part of their team in Berlin.
Between my two fundraising pages, I've so far raised a little over £450 in sponsorship. If you'd like to help me increase that total between now and September 27th, just click here. It doesn't matter whether you live outside the UK – Virgin Money will convert from your local currency into £££ after you donate. Every pound raised will enable Shelter to do even more to fight homelessness in this country.
Thank you!
Exhibit A
P.S. The photo above is based on an image sent to me by Exposing 40 a few weeks ago (source: marlenboro.com). The only bits I couldn't really replicate were the stripy sofa and enormous testicles!