Something weird happened to me last Wednesday and I'm going to try to write about it, even if I'm not yet sure I'll be able to find the right words to describe it.
I was life-modelling in an achingly hipster studio/warehouse in Hackney Wick. With the exception of a hen party two weekends ago (which I'll cover in a future blog post), it was the first time I'd done anything like that for about 10 years – and it was only when I got on the Overground half an hour before the class was due to start that I decided I definitely wasn't going to chicken out.
Building yourself up to do something scary is often a lot worse than actually taking the plunge and doing it, so once I'd arrived and taken off my clothes I started to feel pretty calm about things; not exactly in my comfort zone, but certainly not so far outside it that I couldn't relax a bit and enjoy myself.
The artists were arranged in a horseshoe around a sofa, rug and stool, with a couple of larger easels set up at the back for latecomers. The class kicked off with a series of 10 one-minute sketches, which ought to have been a nice way to ease into it. What I hadn't realised till we got underway was that I was expected to choose all the poses myself; I'd thought the teacher would tell me what he wanted, and it was a little unsettling to have to figure it out on my own, especially during that first, rapid-fire session.
It did at least take my mind off the fact that I was naked in front of 15-20 people, though honestly, these days, I'm not sure that bothers me in the slightest. If it had, I think the quiet professionalism of the people drawing me would have helped to settle the nerves anyway; they were serious people, and it would've been hard to feel self-conscious for long when their interest in me clearly didn't extend beyond my value as a subject.
We went straight from the one-minute poses into two 10-minutes sketches, which were followed immediately by a 30-minute sketch. It's hard to get across how physically demanding it is to hold any position for that long, regardless of how comfortable it feels to begin with. After a while I tried to take myself outside my body – to reduce my awareness of my twisted back, draped limbs, and the discomfort spreading out from my core. I counted bricks on the wall behind the artists. First in rows, then in columns, and finally in neat, woven patterns. I catalogued the contents of the studio around me, then I closed my eyes and tried to remember each item I'd noticed. Finally, I studied the people fanned out in front of me – studied them, and fantasised.
With hindsight, that was a mistake. Even more of a mistake was focusing my attention on the woman seated fourth from the left, squarely in my eyeline. There was an intensity to the way she stared at me, and every time I caught her eye, I felt my cheeks get a little warmer. At first I lowered my gaze whenever hers lingered on my body. I guess we're not brought up to easily endure that kind of sustained scrutiny, and as a model – an object – I felt even more conscious of the need to avoid direct engagement.
It's not easy though. And I can't stress that enough – it's really not. The more she stared at me, the more I wanted to stare back. In my head, I turned the tables and tried to figure out how I'd draw her. How I'd bring to life the curls of dark hair that bounced down towards her shoulders. The precision I'd need to place the freckle on her exposed cleavage in just the right spot. Her creased, crinkled concentration.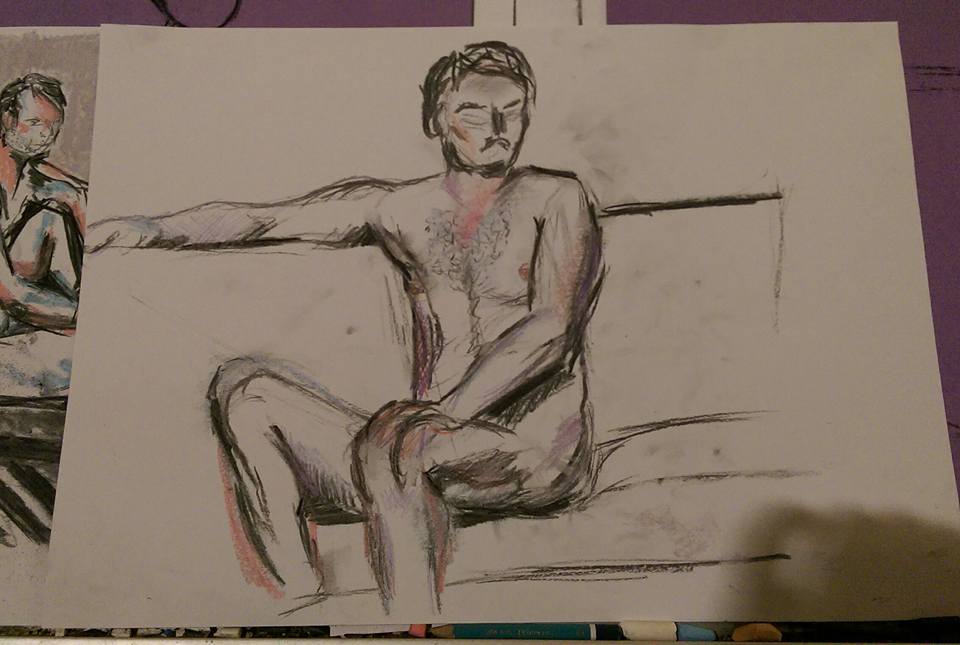 Pretty soon that became a whole story. I sketched it out in my head: in broad strokes, sure – at least to begin with – but sometimes those have the biggest impact. They give you the shape of things, the real heart of the piece, and the rest is mere detail. Study someone for long enough and you'll know exactly what you want to do to them with your hands, your mouth, and your cock – or what they want to do to you.
Let me be clear about one thing at this point. Nothing I've described so far really counts as weird. Not in the context of the last two years. I've put my cock all over the internet. I've opened up about some of my most private desires – and insecurities. I've been to a sex party. I've done a whole bunch of stuff that's pushed and challenged me, but which has also opened my mind to all these fucking amazing experiences, which I might otherwise never have had. Getting naked in front of strangers – fantasising about strangers – is kinda par for the course.
The erection…now that was weird.
Not the fact of it – not that. I brought it on myself, after all. No. It was the manner of how I got hard that freaked me the fuck out. The feeling of becoming erect in a vacuum, essentially.
If you have a penis, you'll probably know what I'm talking about. If you don't, bear with me for a moment…
Cocks get hard, and that's awesome. They go from soft and sleepy to thick and throbbing, multiple times per day, and often with only cursory encouragement. I'm a 34-year-old man – I know how my erections feel. I know how they unfurl across a partner's tongue, or fill my fist as I pump it up and down. I know what it's like to stand in a crowded room – or sit in an empty train carriage – and feel my dick slide up against the rough denim through suddenly insufficient boxer-briefs. Every morning, I wake up hard.
But here's the thing about all those erections – and the hundreds of others I get in an average month. There's resistance. Resistance! The kind of thing you absolutely don't notice till it's no longer there. When I wank, my cock pulses and stiffens into my curled hand. When I'm with someone, it's her fingers or mouth – her stomach or thigh – that I feel against my skin as it steadily expands. Even when I'm sleeping there's a duvet or sheet draped round me, whether or not I realise it at the time.
And those things don't just serve as a lodestone for my building erection – they're accelerants too. They fan the flames in a thousand different ways, subtle and obvious. Deliberate and incidental. I get myself hard. Someone gets me hard. My cock is rubbed, stroked and gripped as it gets hard. When you strip away each of the physical touchpoints it's used to seeking, what are you left with??
I'll tell you what you're left with: something weird.
Aargh, but this is the bit I'm going to struggle to describe! The erection process. The way a whole part of your body just detaches itself from your conscious control and starts to change. Language for it certainly exists within the standard erotica vocabulary. 'The skin stretched taut over his swollen length', 'it jutted out from his body, stiff and straining', etc etc. But how does it feel, and – more to the point – how does it feel when there's nothing but emptiness around it?
Slow. That's the first word for it. Almost excruciatingly so, in fact, as it pushed up between my parted thighs. Hands and mouths coax – they encourage – and my cock responds accordingly. They also measure its progress. Even if I can't see it, when I feel a grip tighten around the shaft, or the head move up someone's bare stomach, I know for sure that it's getting thicker and longer. On Wednesday none of those catalysts or cues were available to me. As I stared at the wall, I just felt something start to change.
It's a centre of gravity thing; a shift in weight. As the tip stretched out – just a centimetre or two to begin with – it was like a slinky toppling in slow-motion from one stair down to the next. I wasn't even sure it was happening at first. My cock changes size all the time without getting hard; it's a natural rise and fall that's triggered by anything from air temperature to bladder fullness, and rarely has any link to sexual arousal. It was only when the heightened sensitivity kicked in – first in my stomach, then in the soft, spongy head – that I knew I was in trouble.
Perhaps because I had a row of people staring at me, the blood rushed to my face and neck before it really began to pump through my cock. It was a proper "oh fuck" moment, and my head pounded as I desperately tried to focus on anything other than the sudden urge to cross my legs and put a hand over my crotch.
If I'd been able to do that, I could've stopped things getting out of hand. At that stage there'd been a change in length, but not really in firmness, and that's the killer – that's when you know the horse has pretty much bolted. As it was I just had to sit there and watch them watch me.
When enough blood had been channelled into my cock, the next part of the chain reaction kicked in. I felt the tip jerk up a notch as the muscles in my pelvic floor twitched. It's like whacking a hammer down on one of those 'strength tester' games at the fair; the puck shoots up and back down again, before you've really registered its movement.
At the same time the shaft got thicker. If you don't have a penis, try this. Take a decent-sized breath, close your mouth and hold your nose. Now push the air really slowly against your cheeks, as if you're exhaling. That stretch you feel – the pressure on your skin, forcing it outwards – that's a rough approximation of what it's like when erectile tissue swells in that way.
Beyond a certain level of rigidity, the dick becomes strong enough to support its own weight, and it no longer bobs down after each clenching tug on the string. There was an ache to the way mine levered itself up above my thighs that night, to sway gently in air that felt cool around it, despite the fan heaters either side of me. I wanted to be touched – sucked, licked, stroked – and the complete absence of any physical stimulation made it throb and thud.
It took no more than 20-30 seconds to get from those first stirrings to full erection. As I sat there and waited for the ground to swallow me up, I heard the scratch of charcoal on paper increase in volume, a discordant, unsettling counterpoint to the trippy techno beat coming from the teacher's laptop speakers. I glanced to my right and caught a couple of the artists smirking, which immediately made me switch my focus back to the wall opposite.
I've no idea what any of the people in that room were thinking about as they watched my cock get hard in front of them. I don't know how it made them feel or whether they all even registered what was happening. By the time it dipped down then gradually deflated, maybe half a minute later, I'd entered a state of mental blankness, as if my brain was protecting itself from the shock and embarrassment by going into standby mode.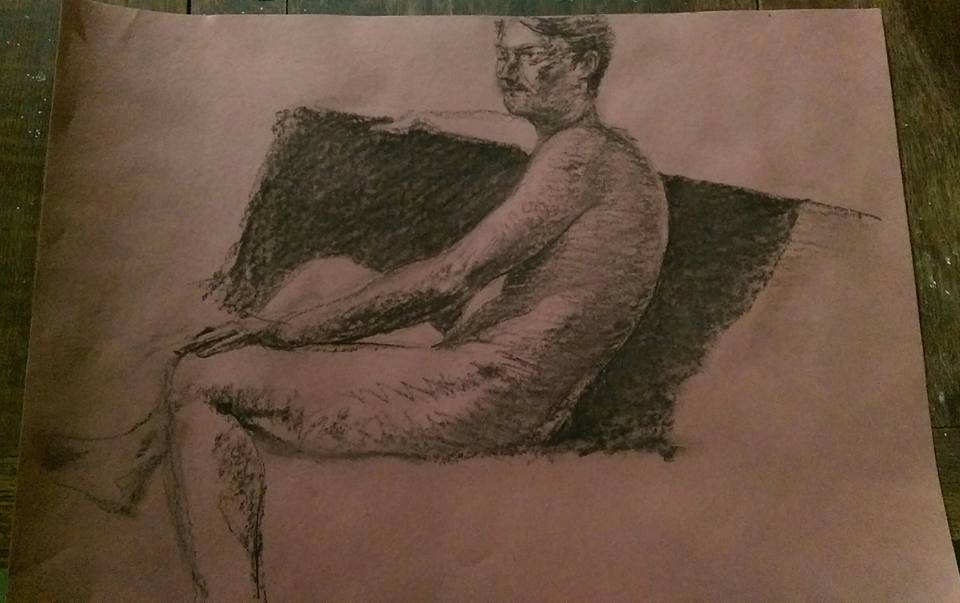 Whatever they thought of it all, I'm pretty sure the whole thing was as strange for me as it was for them. To be trapped in my own body like that – stripped of agency – is unavoidably disconcerting. Because I couldn't touch it – because it was just there – my erection felt both unreal and almost comically obscene. I was detached from it, but at the same time made more aware of its existence by the unfulfilled need that detachment triggered in me.
I left shortly after the session ended, with £25 in my pocket and an invitation to come back any time I liked. And I almost certainly will. What I won't do is allow my thoughts to drift into such dangerous waters. As the model, I am an object – no more, no less – and I need to remember that. Also…it was just really, really weird…