I remember very little about being circumcised. It happened just before my fifth birthday, so that will hardly come as a shock. Three fuzzy, freeze-frame images have survived the passage of time:
Asking to be sedated with gas, because the needle scared me
My dad going to a shop near the hospital and bringing me a toasted cheese sandwich, then sitting next to my bed as I ate it
Sitting at the foot of the stairs on my birthday, surrounded by other children and wearing one of my dad's t-shirts because regular clothes still caused too much pain
I don't think about that time very often, nor would I say it's left any mental scars. Not on me, at least. I was a kid – kids bounce back quickly. My dad recalls it in much greater, more graphic detail, as he disclosed last weekend.
"I just felt so helpless. You were running round and round the downstairs of the house, as if you couldn't bear to stay still. Every time the material touched it, you flinched."
I sort of shrugged when he said that. The memory is clearly a lot harder for my parents than it is for me, and that's a difficult thing to process; when your own childhood is responsible for someone else's trauma, what can you do but listen and try not to get dragged down into it?
It's maybe important to note that they didn't have me circumcised for religious or cultural (or aesthetic) reasons. It was only when the doctors told them I'd be at greater risk of UTIs and other infections in future if I kept my poor, too-tight foreskin that they agreed to schedule the operation. They were the ones who had to nurse me through the recovery period, and to deal with the guilt that I suspect we're genetically programmed to feel when we inflict pain on our children, however indirectly.
I can understand why they felt that way, and why the echoes of that pain now resonate much more strongly for them than they do for me. Nevertheless, I find it hard to imagine a life in which they hadn't had to make that choice – as far as I'm concerned, I'm circumcised in the same way that I'm ginger, or freckly, or left-handed, or whatever. It's just a part of who I am, and if I had the chance to go back and undo things, I'm pretty sure I wouldn't take it.
In fact, I've only ever felt self-conscious about my lack of foreskin when other people have made a big deal of it. I remember being 9 years old and getting changed at the local leisure centre after a school swimming lesson. Before I could put my pants on, a boy in my class suddenly pointed at my penis and in a loud voice said "What's that? What's wrong with your willy?"
It wasn't an unreasonable question – from the 1980s onwards only around 5% of boys in the UK have been circumcised, and I'll bet that number was even lower in my sleepy West Oxfordshire hometown. Nevertheless, I wasn't comfortable in public changing rooms for several years after that – a problem only compounded by the onset of puberty – which was doubly unfortunate, given the innocent nature of his enquiry.
As an adult, it's rarely been an issue, if only because grown-ups tend to be rather less blunt with their body questions than nine-year-olds. I've had the odd sexual partner who hasn't quite known what to do with a circumcised cock (until I've shown them), but none of them have leapt back in revulsion and I've never felt like it's stopped me enjoying a normal, healthy sex life. In fact, as I've written before, sex has made me far more confident about my body in all respects, and that includes the size, shape and visual appearance of my dick.
So why write this now? Well it's a bit of a perfect storm. My Dad's comment got me thinking about it, and perhaps that was in the back of my mind when I looked at the photo below – one of the very few someone's taken of me where 'circumcised cock' was my first, instinctive response*.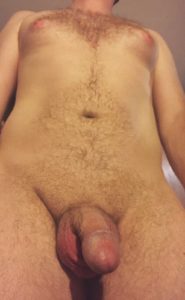 A couple of days later, a TV dating show casually tossed out two circumcision 'facts':
70% of British women prefer their dicks uncut
Uncircumcised penises are more likely to stimulate the clitoris during sex
When I heard that double-whammy, I knew I had to write something about my own experience – I just wasn't sure what. In a way that's still the case, but I'm kind of ok with that. Not everything I post here has to be structured or focused.
Leaving aside the dubious science, it was the second nugget that really irritated me. The first one I actually have no problem with. Maybe 70% of British women do prefer to play with an uncircumcised cock. If so, that's fine – more power to their elbow. I'm never going to bash anyone for picking one physical attribute over another, or even for expressing that preference. For one thing, if I lived in the US maybe those numbers would be reversed. Even if they weren't, I often benefit from general physical biases in other ways – I'm 6'1", I'm in 'decent shape', I have blue eyes, etc etc – so it would be churlish of me to grumble at anyone harbouring a bit of a foreskin fetish…or just a fear of the unknown.
The bit about clitoral stimulation touched a nerve because even though I knew it was nonsense, it felt for just a second like I was 9 years old again and watching the rest of the changing room wheel round to stare at me, as Martin Kilpatrick pointed at my dick and asked what was wrong with it. I'm hit by that same combination of embarrassment and anger whenever someone refers to an uncircumcised penis as 'intact' – a term which may be medically correct, but which always suggests that the person using it views circumcised cocks as broken or damaged.
I don't feel broken and I don't feel damaged. My dick works just fine without a foreskin, and at no point has it stopped me (or my partners) having a happy, fulfilling sex life. Moreover, for most boys (and therefore men) circumcision is not a choice – it's a fact of life, and none of them deserve to be told that they're inferior because of something they can't go back and change.
Look, the ethics of circumcision are not straightforward – my dad's agonised tone of voice the other night was a perfect demonstration of that. They touch on religion, tradition, medical consent, and a whole bunch of other topics that are perfectly valid to debate in public. I don't want to see that debate shut down; nor do I think those of us who've undergone the procedure should be sheltered from it. However, it's worth remembering that it's (literally) a sensitive subject for a lot of men, and the language used around it should reflect that – as it should with any body issue, frankly.
Being circumcised doesn't make you better or worse in bed, it doesn't make you objectively more or less attractive, and it definitely doesn't mean that your penis is deficient in any way. If we could use that as a starting-point, I for one would be a lot happier discussing it in public.
—
* This was originally taken for August's Sinful Sunday prompt. I thought I was too late for that, but apparently not!