For nearly 200 years, wreaths have been used to celebrate Christmas and welcome visitors to the house during the festive season.
Traditionally those wreaths are candlelit, but modern technology has intervened in recent years to provide a more convenient (and less flammable) form of illumination.
Still, while fairy lights have their own twinkly charm, they lack the plain heft and solidity of a proper Christmas candle. The welcome they give is bright and charming, but also just a little insubstantial. It carries less weight.
This year we decided our wreath needed one minor modification, in order to give it a proper festive presence. Something to add a harder edge to all that light and colour. Something like this.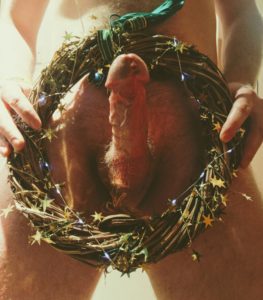 I hope everyone reading this has a very merry Christmas, and that you all find something exciting (or excited…) under the tree!