"Morning gorgeous!
You looked so peaceful earlier that I didn't want to wake you – and I was in a bit of a rush when I left. I'm on the train now, so should be in plenty of time for my presentation. Just need to run over it one last time at the conference venue, and then I'll be ready to go.
If you get time today, could you do some laundry? I'm down to my last couple of shirts, and I don't seem to have any clean underwear. I'm afraid I had to borrow a pair of your knickers. You know the soft, pretty pink ones that you look so fucking hot in? Yeah, those.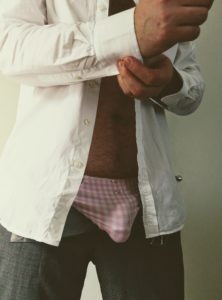 I woke up really horny, remembering how you ground back against me when I slipped into bed last night, and pulled my cock deep inside you, even though you knew I had to be up early. I couldn't resist you – I never can – and thinking about it now is getting me hard again. Your knickers feel really tight around my erection, as if I might burst out of them at any moment.
Instead I think I'll go to the train toilet and rub myself through them, till the inside of the fabric is slick with pre-cum. It won't be easy to make a speech if I'm that worked up, so I may not stop – just jizz all over my hand and let the rest get soaked up by the cotton. It's not like they won't get damp during anyway – those venues are always wretchedly hot, so between my pubes and my balls the sweat is bound to make them cling to my skin.
I've already decided what I'm going to do with them once I get home. You see, I really should have got more sleep last night, and you're the reason I didn't. Actions have consequences, darling – you know that – and this is no exception. First I'm going to kneel over you, unzip my trousers, pull my cock out of the sweat-stained, cum-soaked underwear, and stuff it down your throat. I want you full of it – full of me – and barely able to breathe as I thrust again and again…and again.
Then, just when you think you can't take any more, when you're about to beg me to stop, I'm going to take your knickers off and jam them into your mouth, so you can taste for yourself the mess I've made.
That seems fair, doesn't it baby? Especially if I fuck you while you're gagged with them. I'll do it nice and hard too, so you'll know just how much I missed you while I was gone – and how fucking horny it makes me to go to work like this, my cock straining against your pretty little briefs.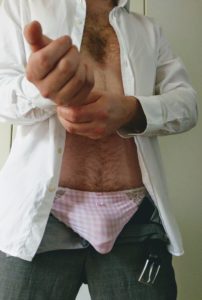 I haven't decided yet whether to take them out when I come. I might just press the tip of my cock between your lips, so they're forced deeper into your mouth. That way I can shoot all over them for a second time, and coat your face with the rest of it. You'll be tasting and smelling my cum for hours afterwards.
Anyway, my love, I must stop writing and get on with things. I hope you have a nice, relaxing day – I know how gruelling last week's night shifts were, so you should chill out while you can! Do remember that laundry though, if you get a minute. I'd hate to have something like this happen again tomorrow. Really, I would.
Kisses,
EA xxxxxxxxxxxxxxxxxxxxxxxxxxxxxxxx"