As people who know me well can attest, I don't always have the world's best poker face. Whether I'm pleased or annoyed, or just think someone's talking rubbish, it's often written across my features in pretty bold text. I can control that when necessary – during an actual game of poker, for example – though even then, friends and family members rarely have much trouble reading between the lines. It's perhaps a stretch to say I'm an open book, but if you know what to look for I'm not exactly 'À la recherche du temps perdu' either…
That's no less true in bed – and while I think I sometimes ought to be a little more guarded in professional and social situations, sex is one area where a little openness definitely goes a long way. I want my partners to know for an absolute fact that I'm enjoying myself, because that's a form of reassurance I really value in others; non-verbal feedback is just as important as words of encouragement or other vocal communication*, and in some cases can offer a more immediate, instinctive sign that things are going wonderfully. Or, indeed, that they're not.
I'm lucky enough right now to be with someone who makes no attempt to hide what she wants in bed, and then makes perfectly obvious what she thinks of it. Some things elicit more of a response than others, and I've learnt to build those up and draw them out; to show her what she's getting, then watch the grin spread across her face as she waits patiently (ish…) for me to give it to her.
I've always assumed that it's an involuntary response, but occasionally I wonder whether she might know perfectly well what she's doing. What effect it has on me. Or maybe that's just another benefit of letting your feelings float to the surface and radiate out into the world. Because try as I might – and honestly, I really do – that smile rarely makes it possible to deny her for long…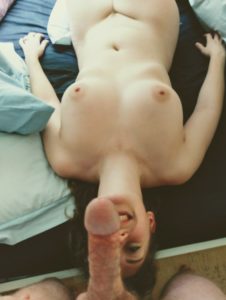 *NB: this clearly does not apply to consent. Consent isn't given through 'body language' or facial expressions – it needs to be established freely, positively, enthusiastically, and unequivocally.