At some point in the last year or so, Exposing 40 introduced me to the erotic photography of Robert Mapplethorpe – and I can't thank her enough for doing so. His male nudes are authentic, erotic, occasionally crude, often explicit, and (almost) always just really fucking hot. They depict the male body as I wish more people would see it; as something beautiful in its own right, whether in repose or during a more overtly sexual moment.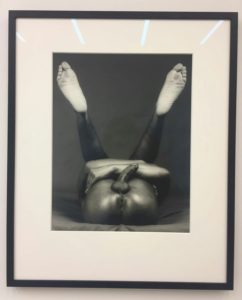 Anyway, I've lusted after a handful of Mapplethorpe's portraits for a while now – both in a traditional sense and as something to emulate, if possible. I recently tried to recreate the rather impressive photo posted to the right (or above, if you're reading this on a mobile!) as a phone camera selfie, with spectacularly unsuccessful results, so when Exposing 40 suggested shooting for a different one this afternoon, I didn't need any persuading.
You'll find the original image (titled 'Light Gallery Invitation')  underneath our attempt – decide for yourself whether we did a decent job!