…though you could replace the G with a D in that photo title and it would be equally appropriate.
Whether in person or via webcam, I've always loved it when someone wants to watch me masturbate. Feeling their eyes on me as I slowly lose control, and opening myself up to them in that way – both are guaranteed to turn me on. This blog is called 'Exhibit A' for a reason…
Sometimes people who watch me wank ask to take photos, and my answer is always an enthusiastic yes. I like hearing them click away, capturing all the things that turn them on about watching, even if I sometimes scroll through the camera afterwards and am surprised by what I see.
One of my biggest fantasies involves doing that in front of a group of people I know – partners, lovers, friends. People I'm comfortable trying this with. They're at least semi-clothed and I'm naked. On a stage, or just stretched out on a bed. Exposed. They take photos – calmly, silently, dispassionately – or just scratch notes on a paper pad. Murmer to each other, every now and then. Maybe they touch themselves too, furtively under their clothes, but they never take their eyes off my body. I'm both hyper-aware of them and somehow adrift on a sea of my own arousal, gently bobbing across the cresting waves.
When I come, nothing much changes. Perhaps the people watching inch forward a bit in their seats when it's clear I'm getting close, but as I tense and moan and jizz all over my hand or stomach, there's nothing more than a soft collective sigh in response. Quiet satisfaction with what they've seen. Hugs and catlike grins afterwards, then off to the pub to show me their photos over a couple of bottles of wine. Relaxed, filthy, funny, kinky happiness – almost always the best kind.
Mm. One day.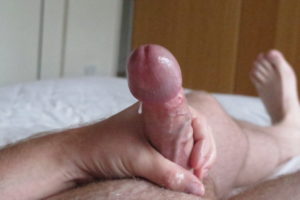 (Once again, credit goes to Exposing 40 for this 2015(!) photo. She has a good eye for these things…)