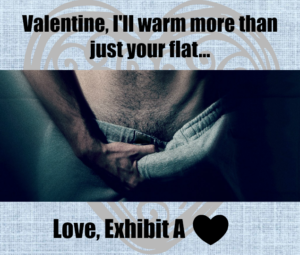 (NOTE: Photo is *not* of me…much to my chagrin…)
—
In 1999, Valentine's Day fell on a Sunday. I was 17 years old, and still unkissed. My alarm clock was stuffed under my pillow and set for 5.40, on what would turn into a cold, clear February morning. I had work to do.
It took me no more than a couple of minutes to pull on my warmest clothes and tiptoe across the landing. The stairs creaked under my feet, but my luck was in; my mum, normally the lightest of sleepers, didn't stir. I grabbed my bicycle lights from the kitchen counter, squeezed the lock on the back door, and slipped out into the darkness.
My bike lived in the garage, propped up next to boxes of childhood toys and unwanted books. At eight o'clock every weekday morning, I wheeled it out onto the driveway, slung my backpack over my shoulders, and cycled the two-and-a-half miles to school. At 5.45 on that Valentine's Sunday, I had a different destination in mind.
Her name was Rachael. We were classmates, close friends and confidantes. Or rather, she confided in me and I hung on her every word, happy just to bask in the glow of her company. I walked her home sometimes after school, wheeling my bike alongside me; on the days when she invited me in, I sat at her kitchen table, or on beanbags in her dad's sunlit study, and drank endless cups of tea, desperate to delay my departure for just a little longer.
I was in love; she was not. Not with me…but also not with the boys she dated, and that gave me hope. Hope is a dangerous drug when you're 17 and unkissed. When you haven't yet been chewed up and spat out enough times to lose faith in the all-conquering power of heartfelt, moon-faced adoration. It was hope that pumped through my veins on the afternoon before Valentine's Day, when I shuffled into the local florist and bought a dozen red roses, to go with the card I'd hand-made that morning. It was hope that set the butterflies in my stomach dipping and spinning as I took the flowers out of their bucket of water on that cold, clear morning, and closed the garage door behind me. And it was hope that surged up in my chest, and across my pink-flushed cheeks, as I sped down the narrow path behind my house, tyres barely kissing the top of the tarmac.
I reached her house to the distant sound of the church clock striking six. I left my bike propped up against a lamp-post, and crept up to the front door. Her cat appeared at the kitchen window, ancient and half-blind; she fixed me with a baleful stare, one paw pressed up against the glass as I knelt down on the covered porch to leave my token of love.
By the time I got back to my bike, I could feel my heart shuddering and thumping against my ribcage. I half-turned, suddenly desperate to scoop up both card and flowers, and to forget the whole thing. To go back to bed, and wake up in a world where my shuddering, thumping, tender heart wasn't resting on someone's cold doorstep, waiting to be brought into her warmth.
Hope, though; hope had its claws sunk in deep, and I hadn't yet learned how to shake them loose. It was still dark as I swung one leg over my saddle and nosed the front wheel of my bike towards home.
Dark enough that when I reached the end of her road and glanced back one last time, the triangle of light that appeared at the corner of her bedroom window shone fierce and yellow against the morning gloom. I put a foot down to steady myself; when I looked up again, it was gone…but as I squinted and strained my eyes, I could just make out the gentle sway of a curtain dropped silently, carefully back into place…
—
…when you're a kid, you believe in Father Christmas and the Easter Bunny; when you're a teenager, you believe in Valentine's Day.
I only really have one sexy Valentine's story, and I wrote that last May. However, what I can offer instead is a sexy collection of stories, courtesy of the Chemical [se]X 'Capture Cupid' Blog Hop competition. Jacob Louder kicked things off on Sunday, Malin James picked up the baton yesterday, and between now and the 13th, each of the other Chemical [se]X authors will be giving you the chance to enter the contest, and to win some really great prizes.
If you want to take part, all you have to do is comment on this post – or on any of the other posts in the Blog Hop series. In fact, the more comments you leave, the more entries you get into the final draw. The two lucky winners will be picked at random on Valentine's Day itself, and will each win a great bundle of prizes.
1st Prize
2nd Prize
£10 gift card for Belle de Soir
$10 gift certificate for Seattle Chocolates
E-book copy of Chemical [se]X
What sort of comment should you leave? Well, now that I'm a cynical 33, rather than a hopeful 17, I no longer believe in Valentine's Day – not in the cards, and the flowers, and the fluffy pink hearts, at least.
I do still believe in romance though, so when one bright spark suggested marking the occasion with a 'reallllllly romantic dick pic', who was I to turn down the challenge?
"You could get some ribbon and wrap your dick up like a present," she said. Bitch, please – been there, done that.
"You could get a bunch of pink Valentine stickers and stick them all over your thighs," she said. And risk an accidental waxing when I remove them afterwards? I don't think so.
In the end, I turned to Chemical [se]X editor, contest administrator, and all-round creative genius (seriously), Oleander Plume, for assistance.
"Don't you worry your pretty lil' head about it for a minute longer," she cooed. "Just send me that hard cock of yours, and I'll take real good care of it."
And reader, that she did.
So yes, after the jump you'll find my Valentine's Day #dickpic; my Cupid's arrow for those who like their romance hard and salty, rather than soft and sweet.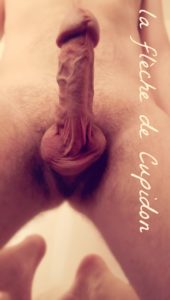 If you want to enter the competition, leave a comment and tell me about the most romantic cock shot you've ever sent or received…or, if that's not your kind of thing, just the best filthy Valentine's present someone's ever given you.
Tomorrow, it's the turn of the lovely – if problematically hot – Jade A Waters to play Capture Cupid, so do head over to her blog and see what treats are on offer. Knowing Jade, they'll be hard to resist!
Finally, if you'd like to read an excerpt from my Chemical [se]X story, Flat Warming, you can find one here; if you prefer your excerpts in audio form, use this link instead.