I have this fantasy. About being watched.
I mean, I have a lot of fantasies about being watched. I'm an exhibitionist, after all.
But this one is different. This one is specific.
It starts in the bathroom. You're clothed. I…am not. "I like watching you strip," you say. "But now I want to watch you shower."
Who am I to tell you no?*
I squeeze shower gel over my shoulders, and I soap all the way down my back. The suds pour between my arse cheeks.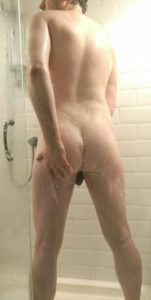 "Mm, I like that," you say. "I want to see you touch yourself. Push your fingers inside. Only one? No, I'm sure you can manage more than that…"
"You enjoy that, don't you? Finger-fucking yourself in front of me? Now turn around and let me see the rest of you. Uh uh, no touching. I want to see you wash yourself first. Start with your chest and work down…yeah, now your thighs…"
"What's the matter? Are you getting hard? Ok, then I guess you'd better give that some attention too. Rub it for me. More."
"Like this?"
"Yes, like that. Show me. Touch it how you want me to touch it. Don't stop."
"Now…stop. Rinse yourself off. You didn't think I was going to let you come, did you? You did? Aw. Cute. Here, take this towel. I want you to dry yourself thoroughly. You've got a lot of work still to do…"
* This first photo is my official Sinful Sunday entry.