I've struggled with this month's Sinful Sunday prompt. It's not that I don't love Christmas – I do – nor that I have any problem thinking up ways to make the festive season sexy. No, it comes down to something far more mundane than that: timing.
I grew up in a family where Christmas didn't really start till the 24th. At this point in early December, there would be no tree in our living room; no tinsel on the walls; no candles in the window. In fact, my siblings and I would go to bed on Christmas Eve with the house looking pretty much as it did for the rest of the year.
"You know it's Father Christmas who brings the tree, darlings," my mum would say as she tucked us in. The implication of that was clear – if you haven't been good this year, it's not just presents that'll be missing when you come downstairs tomorrow morning.
Sure enough though, we'd burst into the living room on Christmas Day – after being made to sing a carol outside the door – to find a whopping great fir tree, decorated with baubles, lights, lametta, the works. My dad would draw the curtains and light the candles, someone would turn the key on the wind-up Santa till Silent Night jangled out across the room, and Christmas would officially begin.
Anyway, long story short, while I'm all on board with festive music at this point, and while I'd never dream of harshing anyone else's Christmas buzz, I simply couldn't think of anything clever to fit the prompt…because that's not where my brain's at right now.
Where is my brain then? Well, my brain is here…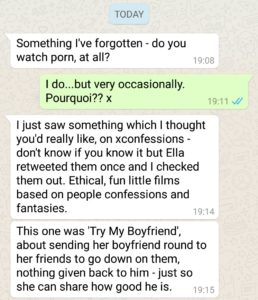 I got this message from a friend earlier, and immediately it set my mind racing. Look, there are lots of bad reasons to think of sex as a gift, but the second as I started picturing this super-horny scenario, all I could think about were the sexy, filthy, good ones.
Being passed around a group of women at a party till my tongue aches, and all I can taste is cunt.
Hanging out with a partner and her flatmates, and dropping to my knees any time one of them casually lifts her skirt.
Being sent to someone's house like a midweek takeaway meal, knowing that a full report will make it back to my partner before I do – and that it will determine whether or not I get to have an orgasm of my own that night.
First though, I'd have to prove that I'm worthy of being shared. I'd have to strip down and get on my back, so she can hike up her dress, straddle my chest, and put my mouth to work. She adores her friends, and she only wants to give them the best – it's what they deserve. If I can't make her come – make her grind down onto me until her legs shake – then what's the point?
Christmas is a time for giving, after all…
…and if you're really, really lucky, a time for being gifted.
This slideshow requires JavaScript.