Maybe it's a sign that I've spent too much time in East London over the last couple of years, but I really like the exposed brick wall opposite our bedroom window. I've been thinking for a while that it would make a good backdrop for Sinful Sunday photos, and I'm sure I'll find a way to make that happen at some point – today though, it was so lovely and sunny outside that I couldn't resist trying out a couple of simpler shots.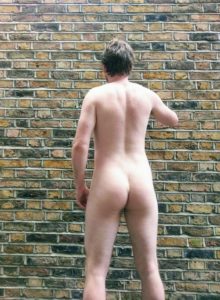 Like a lot of people, I'm fairly self-critical when it comes to photos – especially photos of my face. It's very easy to zero in on the bits you dislike, and which, by extension, other people surely must dislike too. Once you've started worrying about them, it's very hard to stop; like picking a scab, you have to kind of go all the way with it. In that sense, we're often our own worst enemies.
Every now and then though, I look at something I've taken and think to myself "yeah, that's pretty good. I can live with that." It's an important message to take on board, and one we should probably all listen to rather more than we allow ourselves to do.
Anyway, among the photos I took in front of all that lovely exposed brickwork was one which triggered exactly that reaction. One which made me smile. So next time I'm worrying about the my appearance (and honestly, who among us doesn't do that every now and then?), I'll try to remember to dig it out and take another look; to remind myself that even though I'm having a bad hair day, or a bad face day, or just a bad day full stop, I can be happy with what I see in the mirror – I just need to find the right perspective.