Ok, you guys really didn't make this easy! As I said on Twitter yesterday when I announced the names on this shortlist, I was blown away by the quality level on show across all 18 submissions. I feel pretty comfortable saying that the overall standard was higher for this contest than for any other that I've run over the last three-and-a-half years, which is really saying something.
Any one of these five stories would have been a worthy winner, and my only regret right now is that I didn't reach out to potential sponsors beforehand in order to lay on more prizes. As it is, I feel a bit like Cady at the Spring Fling in Mean Girls – everyone deserves a piece of the crown!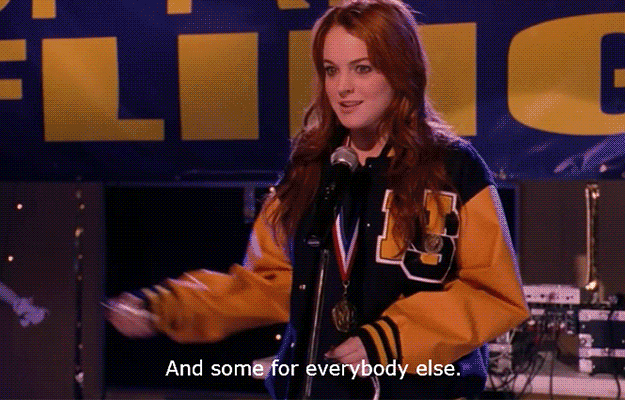 However, there can only be one winner. Well ok, two winners. Before we get to them though, here are the three stories that round out the top 5…
4(=). What's the point in always looking back?, by Tits & Test Tubes
4(=). Alone, by Hannah Lockhardt
I found it impossible to separate these two skilful, heartfelt examinations of the meeting point between the raw pain of recent heartbreak and an unrelenting arousal that demands an outlet.
Tits & Test Tubes is a new sex blogger, and one whose voice already demands close attention. Like the rest of her work, 'What's the point…' is exciting, inventive, thoughtful, and downright filthy. Break-ups often provide great source material for erotic fiction, but T&TT's entry offers a great twist on that trope, as its protagonist laments the end of her relationship with a M/F couple. It's a mark of her success in telling this story that I immediately wanted to hear more…
Hannah Lockhardt is rapidly becoming one of my erotica heroes. She's prolific, passionate, and more deliciously imaginative than just about anyone else on the scene right now. 'Alone' is yet another example of that, but what really made it stand out was how instantly believable it felt. Hannah's main character basically spends the story masturbating to porn, and somehow that just…works. Everything you need to understand what's going on – the history, the emotions, the future even – is contained within her furious wanking, and that's a real skill in itself.
The Backroads, by Ella Dawson
Speaking of erotica heroes… I'm so happy to see Ella writing again, not least because the break from fiction doesn't seem to have dulled her edge in any way. This is yet another pitch-perfect piece of storytelling, marrying trademark notes of swooning, yearning loveliness with enough humour and keen observations about young love (and lust) to elevate the whole piece from a sugar-sweet mouthful into a tasty meal.
I paint the things I want to see…, by Nina Bellini (£15)
In all honesty, 1 vs 2 really was a virtual toss-up. Nina came out on the wrong side of that, but (for the second week in a row) I looooved her story, not least because it absolutely nailed the prompt. This just feels complete somehow, as if I learnt everything I need to know about their relationship over the course of its 450 words…and was still left with a dozen questions to which I wanted to know the answer. It has conflict, wry nostalgia, and above all a sense of what makes a relationship – and the sex therein – worth writing about.
Faithfully, by Teachers Have Sex (£30)
Yes, the very first submission ended up winning! Jo's story grabbed me as soon as I skimmed through it, and didn't let go all the way through half-a-dozen subsequent readings. It's a sad truth that not all erotica authors know how to write sex, but Jo has an instinctive feel for it that I both envy and deeply admire. A series of historic couplings, painted in vivid, horny colours, are linked together by the truth contained within her chosen prompt – old songs really do leave long shadows. Above all, this story is a perfect example of why I prefer erotica to porn – in the hands of someone who knows exactly what they're doing, you don't need to see the sex happening in order to feel every kiss and touch deep inside you.
~
Thank you SO MUCH – again – to everyone who entered! I enjoyed running this contest even more than I thought I would, and that's saying something. Till next time…